The emerging world of point-of-care tests
The challenge of more effective care for infectious diseases and point-of-care testing (PoCT) will play a much greater role in the future. One of the dominant technologies here lateral flow strips using immobilised antibodies to determine a range of parameters, including infectious pathogens. The AMR DetecTool also works according to this principle, offering a solution for detecting the most significant and common resistance mechanisms.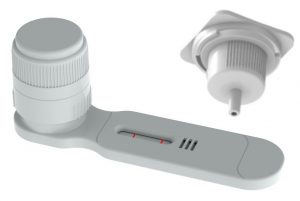 Required Features of PoCT Devices
As documented by St John et al.,9 (Price C, St John A, Kricka L. Point-of-Care Testing Needs, opportunities and innovation. 3rd Edition. Washington, USA: AACC Press; 2010.) these key requirements include:
Simple to use
Reagents and consumables are robust in storage and usage
Results should be concordant with an established laboratory method
Device together with associated reagents and consumables are safe to use
The AMR DetecTool meets these criteria.
The World Health Organisation (WHO) has provided guidelines with more specific design criteria: These guidelines are known as ASSURED: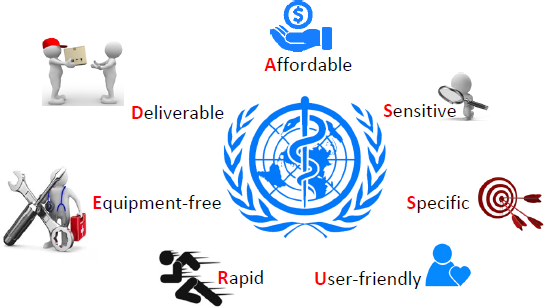 The AMR DetecTool project aims to ensure that the AMR DetecTool meets all the WHO ASSURED criteria.
Emerging PoCT Technologies
Two decades ago, there was much discussion about a concept called Lab on a Chip (LOC) and the view was that this would become the dominant PoCT technology in the future. But translating experimental concepts into commercial devices has proved difficult for many reasons, not the least of which is cost.
Lateral flow strip (LFS) technology has continued to dominate the PoCT market.
Treating severe infections caused by multidrug-resistant bacteria is one of the most important challenges for clinicians worldwide, partly because resistance may remain unrecognized until identification of the causative agent and/or antimicrobial susceptibility testing (AST).
Many rapid diagnostic techniques can already provide pathogen identification. Some of them can additionally detect the presence of resistance genes or resistance proteins, but usually isolated pure cultures are needed for AST.
Validated growth-based AST according to EUCAST or CLSI (European Committee on Antimicrobial Susceptibility Testing, Clinical Laboratory Standards Institute) recommendations is currently suggested to guide the antimicrobial therapy.
Optimal antimicrobial therapy policy would require
Fast point of care analysis
Identification of the etiological agent
Finding an efficient antibiotic
Determination of the functional dosage
Bloodstream infections are associated with considerable morbidity and health care costs. Molecular rapid diagnostic tests (mRDTs) are a promising complement to conventional laboratory methods for the diagnosis of bloodstream infections and may reduce the time to effective therapy among patients with bloodstream infections.
The combination of mRDT and an antimicrobial stewardship (ASP) can result in substantial health care savings.
The timely administration of appropriate antimicrobial therapy can reduce morbidity and mortality in patients with bloodstream infections as well as prevent the development of antibiotic resistance. However, reliance on blood cultures and conventional laboratory methods for bacterial identification can result in a delay in the timely administration of effective therapy, as these methods require up to 5 days for diagnostic results. The rapid identification of microbial pathogens can allow a prompt switch from broad-spectrum antimicrobial agents to targeted therapy, potentially reducing drug toxicity, antimicrobial drug resistance, and health care costs.
Diagnostic strategies:
polymerase chain reaction (PCR)
loop-mediated isothermal amplification (LAMP)
matrix-assisted laser desorption ionization–time of flight (MALDI-TOF) analysis
peptide nucleic acid fluorescent in situ hybridization (PNA-FISH)
a blood culture nanotechnology microarray system for Gram-negative bacteria (BC-GN), and for Gram-positive bacteria (BC-GP)
+1 possible new solution:

AMRDetecTool

– a rapid and easy-to-use diagnostic system to detecting multidrug-resistant bacteria direct from clinical samples
Health economic challenges
A relatively small portion of healthcare costs (<5%) is spent on medical testing, however laboratory medicine is not immune from the challenges of limited resources either: efforts have to be made to lower the cost of delivering tests, while the quality and efficiency of care delivery systems also raise issues.
Point-of-care testing is one of the innovations that can impact
the quality of care
system redesign
a more patient-focused approach to care
Quality improvement and innovation are built on the consideration of three aspects of healthcare delivery:
structure
processes
outcomes
Point-of-care testing creates a challenging scenario:
the unit cost-per-test is larger through the loss of the economy of scale offered by automation
it offers the potential of substantial savings through enabling rapid delivery of results, and reduction of facility costs
Types of Economic Assessment:
Summary of the different types of health economic analyses that have been employed with POCT, indicating the inputs to, and products of, the analyses.
QALY: quality adjusted life year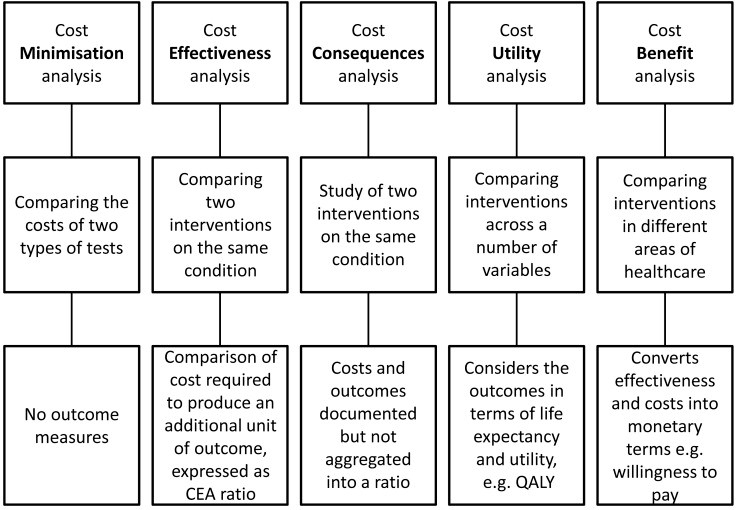 Cost effectiveness analysis compares two interventions, it can be described in a cost effectiveness ratio (ICER), and can be expressed in an equation:
ICER = C1 − C2/E1 − E2
C1 and E1: the cost and effect in the intervention group
C2 and E2: the cost and effects in the control group
The design of the AMR DetecTool project's cost efficiency study is available here.
Sources:
https://www.ncbi.nlm.nih.gov/pmc/articles/PMC3799220/
https://www.ncbi.nlm.nih.gov/pmc/articles/PMC4204237/
https://www.clinicalmicrobiologyandinfection.com/article/S1198-743X(19)30524-5/
https://www.ncbi.nlm.nih.gov/pmc/articles/PMC7373752/
https://www.ncbi.nlm.nih.gov/pmc/articles/PMC6056844/
https://www.ajicjournal.org/article/S0196-6553(18)30145-7/
https://www.ncbi.nlm.nih.gov/pmc/articles/PMC6765391/

Copyright 2020 – AMRDETECTOOL